Best WordPress premium theme providers

One of the reason why many website owners choose to use WordPress to build their website in, is the great number of themes available. Many of these WordPress themes are even available for free. You do not need to pay a single cent to use these themes!
You can find simple WordPress themes for a simple blog as well as full featured themes capable for you to setup a complete e-commerce website. Of course, there are WordPress themes specifically designed for a variety types of websites. More and more are themes being released each day; many incorporating the latest features and web design trends taking advantage of the latest WordPress releases.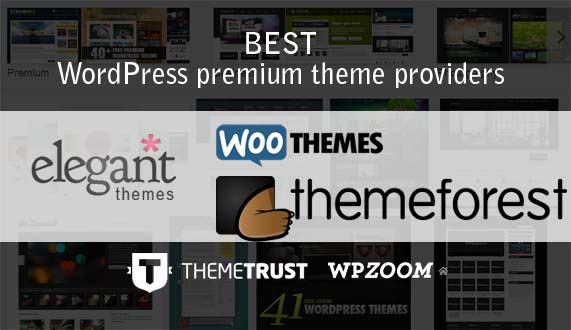 It is therefore not a surprise that WordPress users have absolutely no qualms about whether they can find a theme that can match their requirements and budget. It doesn't matter if you want a free theme or are willing to pay for a premium theme. It doesn;t matter if you are looking for a serious or casual theme. It doesn't matter whether you are starting a blog or developing an e-commerce website. You are bound to find at least one theme which will appeal to you!
Why use premium WordPress themes
Before we look into the various premium themes providers, let's look at the attributes of a premium theme. Why should we be considering a premium WordPress theme when we can easily find lots of beautiful free WordPress themes?
Optimized code

Many free themes are poorly coded and as a result, are less efficient compared to premium themes. Premium themes are almost all of the time optimally coded and tested many times by professionals (those offered by reputable theme providers at least) before being offered for sale. Hence, premium themes are more efficient.

Support

This is one of the main reasons why many prefer a premium theme. A good premium theme will come with extensive support from the developer. When you have a problem uploading your theme or customizing it or if you are facing any other issues, you can expect friendly support from your provider. You can usually expect to get speedy support through emails or at least through their forum.

A highly recommendable theme company who offers very good support through their user forum is

Elegant Themes

.

More features

Free themes generally come with limited functions and while great for simple websites, they may frustrate those who want more out of their themes.

Premium themes can afford to include more features and functions and are designed for ease of use. They are easier to customize too! For example, all themes from Elegant Themes come with an exclusive control panel called the ePanel. You can do a lot of things from with this point-and-click ePanel, including customizing the look and feel of your website!

Security

Free themes are known to be easily hacked because of poor coding and lack of updates. Some hackers even hide malicious codes in their themes and offer them for free! Unless you are unperturbed with the idea of losing your readers' trust and search engine's ranking, you should consider premium themes from reputable providers.

Good theme providers usually extensively test their themes before releasing theme. They also continuously offer themes updates to any fix bugs and security flaws.
Types of premium themes providers
As you probably are already aware, there are many types of WordPress premium themes providers. With so many choices around, the inevitable question is where can we find good quality WordPress premium themes.
With that thought in mind, we comb the Internet to search for awesome WordPress premium themes providers who offer themes that can be used by both website owners and also theme developers. That was easier said than done, what with hundreds of theme providers out there. But we did find six which in our opinion, deserve to make the list.
Some were popular providers while some were lesser known ones. But all the following theme providers were carefully selected and are considered the best WordPress premium themes providers. Between all these theme providers, you will be able to find just about any themes.
To make it easier for you to go through the list, we have categorized these theme providers as:
Membership themes clubs

While some of these providers offer individual theme for sale, most of these clubs offer membership in return for full access to all their themes. These clubs usually attract website developers who create websites on behalf of their clients or those who own many sites.

Marketplace Theme Providers

For those who think that membership themes clubs lack diversity, they will prefer this category of themes. Marketplace is like the ebay for themes where theme developers offer their themes for sale at a common site which acts like a marketplace. Buyers have access to different types of themes based on the different developers' styles.

General themes sites

These include providers offering various themes templates for individual sale. Most of their customers include web owners themselves. Some of these providers may also offer discounts if you were to purchase more themes.
Membership Clubs
---
Elegant Themes

Elegant Themes needs no introduction. They are one of the most popular WordPress theme company today. Rightly so too. With gorgeous easy-to-use themes at really affordable prices, it's no surprise why customers all over the world are singing praises about them!

Elegant Themes' themes are very user-friendly, even for beginners. Once you are a member, download the theme(s) you like, upload it to your website and just activate it. If you want to modify some of the settings to customize it, you will find the control panel, ePanel, an easy to navigate tool and full of options. Among the theme features include tons of shortcodes, site templates, sliders, widgetized sidebar and amazing color schemes. They have a wide variety of themes ranging from the common blogs to e-commerce to multimedia.

Here are examples of themes created by Elegant Themes.

---

This budget-friendly theme company offers 3 membership plans.

The Personal plan costs $69 per year where you will have complete access to all their themes including upcoming new themes, perpetual theme updates and complete technical support.

No, they do not offer free themes but if you think about it, their themes are so affordable that you probably will find a single theme costing more than $69 at some other sites, let alone having access to all 87 themes (and counting. Usually a couple of new themes are released every month)!

Now, if you were a web developer or designer, you will be delighted to know that they provide layered Photoshop Files too. In this case, you can opt for the Developers plan which costs $89 per year. This plan lets you have access to the layered Photoshop files for each of the themes. On top of this, you will also have access to 4 Premium WordPress Plugins.

For both the Personal and Developer plans, you will continue to enjoy the respective services provided you are still a member. Once you stop being a member i.e. do not subscribe nor do you pay the annual fees, you will then not have full access to the themes/ plugins anymore and will stop receiving updates or support. You will however, be able to keep and use those that you have downloaded.

But if you were a happy user of Elegant Themes, you may want to consider the Lifetime Access, where you only pay a one-time fee of $249 and you'll get the Developer plan for life. That's less than 3 years subscription fee of the Developer plan!

There are various ways for you to request for support, i.e. email, support forum and documentation. All these are immediately accessible in the Members Area. The support team is very helpful and knowledgeable. The only thing that I would like them to add is more dedicated tutorial videos for each theme. But even without them, Elegant Themes is still a great WordPress premium themes provider with amazing themes at really affordable prices!

Woo Themes

Woo Themes is another good WordPress themes designer and is very popular among the WordPress community. They used to create themes for other CMS but lately, they seemed to focus on WordPress themes.

With Woo Themes, you can sometimes find really beautiful free themes. Most of their themes have pretty artistic headers, which capture your visitors' attention. Have a look at some of Woo Themes' designs.

---

The great thing about Woo Themes is that they have their own e-commerce plugin called WooCommerce. It is incorporated in a number of their themes to aid small to medium-sized online businesses.

Woo Themes now offers over 80 themes, of which 16 are free. The themes cover various types of websites including for corporate businesses, online portfolios and e-magazines.

Woo Themes lets you purchase individual themes costing $99 per theme. With this purchase, you will get lifetime updates and support. However, should you prefer to have access to all their themes, current and future, their memberships are worth considering.

Woo Themes have 2 different packages, namely Theme Packages and WooThemes Club.

Theme Packages provide access to only the theme you had chosen as well as bonus themes. You do not have access to any other themes. Updates and support for your themes are available for as long as the individual license permits.

There are 2 Theme Packages. The Standard Package costs $99 for a theme and comes with additional 2 bonus themes and 1 year support and updates. The Developer Package costs $119 per theme and you will get 3 additional bonus themes, 1 year support and updates and layered PSD files.

Woo Themes offers 2 types of club memberships. The first is Standard Club Subscription which costs a one-time $129 start-up fee and $29 every month. In return, you will receive full access to all their WordPress themes, support, theme updates and have unlimited concurrent domain uses!

For those who wish to have access to Photoshop files, there's the Developer Club Subscription which costs $199 for the start-up fee and $39 per month.

Similar to Elegant Themes, theme updates and support are only available for active members.

WP Zoom

Even though WP Zoom has fewer WordPress themes for offer as compared to Elegant Themes and Woo Themes, they do have some of the better WordPress premium themes around. They have been constantly adding new themes to their collection, which is always a good sign. They currently have 54 themes for download with 4 free ones.

Check out these examples which I personally like.

---

Their themes are usually very clean and seem to gravitate towards magazine / news themes. If you are looking for a cool magazine / news theme, you want to check out Prologue. It is a responsive magazine type of theme. It has a featured slideshow and a unique carousel footer.

Pricing wise, WP Zoom is quite similar to Woo Themes'. They too have single theme packages as well as memberships.

You can purchase the Single License for a one-time fee of $75 per theme. They will also let you choose a bonus theme so you get 2 themes for the price of 1. You get to use these themes for life and for multiple domains too but support and updates are valid for 12 months only.

If you are a web designer and need PSD files to work with, then you should purchase the Extended License. It costs a one-time $125 per theme and you get 2 additional themes, making it 3 themes for the price of 1.

Alternatively, you can choose to have full access to all their themes including future ones too. The WP Zoom Membership costs a one-off $199 start-up fee and $19 per month. This membership is great for:

Bloggers or website owners with 5 or more sites
Web designers
Those who are planning to create lots of WordPress websites

Organized Themes

With only 15 themes to their name, Organized Themes has the least number of themes among the membership themes providers. Their themes range from the usual business and restaurant themes to the less than usual church and non-profit themes. That's because the owner cum theme developer was an associate pastor before changing his career, so it's his way of helping those organizations.

Here are some of their themes.

---

I think their themes are very organized and pleasant. Their intuitive control panel is suitable for those who are not familiar with messing with CSS, JavaScript and PHP. Support is quite good. You can choose to use the support forums or search through helpful knowledge base articles or view how-to videos.

Organized Themes too have both individual themes for sale as well as memberships. Individual themes costs $49 per theme and is cheaper than Woo Themes and WP Zoom's individual theme packages. You will get a bonus theme and lifetime updates and support (unlike Woo Themes and WP Zoom who offer only 1 year support and updates, unless you renew your licenses).

If you prefer full access, then you can choose a 6-Month Membership for $59 or 12-Month Membership for $89 or the Lifetime Membership for $149.
Theme Marketplace
Theme Forest

Theme Forest is simply the largest marketplace for WordPress themes. They have more than 12,000 site templates and themes and these are not just limited to WordPress themes but also for other applications such as Joomla, Drupal, Concrete5, Tumblr and many others.

Theme Forest has over 3,600 high quality WordPress themes and the reason for this lies in the pooling of resources. Since it is a theme marketplace, it serves as a platform for theme developers all over the world to create and sell their themes on this website. This is attractive for them because it takes away the hassle of setting up their own online stores. Theme Forest is already an established marketplace with ready buyers so theme developers don't have to worry about marketing either. The marketplace also provides other services such as payment gateway, billing and the delivery of the themes.

With so many WordPress themes available, there's bound to be some that fits your requirements, be it for your personal blog, your company's website, e-commerce and even for nonprofit organizations.

Below are a couple of themes available on Theme Forest.

---

Understandably, because there are so many different developers, Theme Forest hardly ever offers special promotions or "free" themes or full-access memberships. They do, however, tie up with their sister companies to offer bundle promotions. Themes range in price from $30 per theme to $60 for special ones.

Theme Forest has a slightly different support system compared to the other theme providers. They have extensive information in their Knowledgebase as well as Troubleshooter wizards to guide you through any problems. If you wish to contact their staff, you can send them an email too. These support, however, do not cover support for individual themes. For this, you will need to check with the respective theme developers through the themes discussion section or look through the theme's documentation.

So yes, theme support depends on the theme designer. But don't worry, Theme Forest has a great comments and rating section where readers and customers can rate and share their thoughts about that particular theme or developer. So if a theme developer is lacking in support or in other areas, you will certainly read about them!
General Themes Sites
Theme Trust

Despite only being in the business for 3 years, Theme Trust has been designing rather exciting themes. They have 20 themes on offer currently. These include themes for businesses, e-commerce sites as well as magazine themes.

All these themes come with great features like amazing home page sliders, shortcodes, wide selection of colors and fonts as well other features. Design wise, Theme Trust's themes mostly have a clean look. Installing the themes is pretty easy too. Check out a couple of their themes below.

---

Each theme costs $49 but since Theme Trust is having a special offer of "Buy1 Get 1 Free", this means that you will get 2 themes for $49. That works out to be $24.50 per theme.

If you face any problems, you can get support from the Knowledge Base where you can find lots of great FAQs and informative answers. Of course, you can also get help through the forum.
Conclusion
There are hundreds of WordPress theme providers around. Some offer themes designed by one developer while others provide a variety of themes created by different developers. Some themes are multi-purpose while others are specially designed for a particular industry. It really depends on your preference and requirements.
Out of so many WordPress premium theme providers, the above list include the few that I personally find deliver the best quality themes at very reasonable prices. If you are looking for clean and beautiful themes but has a limited budget, then Elegant Themes is your best bet. If you prefer to search for individual themes from a themes marketplace, then I recommend Theme Forest.
Whichever company you are going for, I do highly recommend that you check out the demos to experience the themes and the features in order to find a theme that perfectly showcase your personality and your website's purpose.