Elegant Fusion WordPress Theme

One of your biggest choices if you have a WordPress site is which theme to use. While there are thousands of free themes, these are not usually very interesting. Premium themes can make your site more distinctive and offer better support.
Elegant Themes' themes are among the most popular premium themes, and you can get a whole collection of these for one price only. One of the most impressive theme from Elegant Themes is called Fusion. In this review, we'll be looking at the Fusion theme, as well as some of the features you get with the whole Elegant Themes package.
Features of the Fusion Theme
Fusion is a versatile theme that gives you several color options. It can be used for either a personal or business WordPress site. It has a very contemporary look, which makes it appropriate for websites dedicated to technology.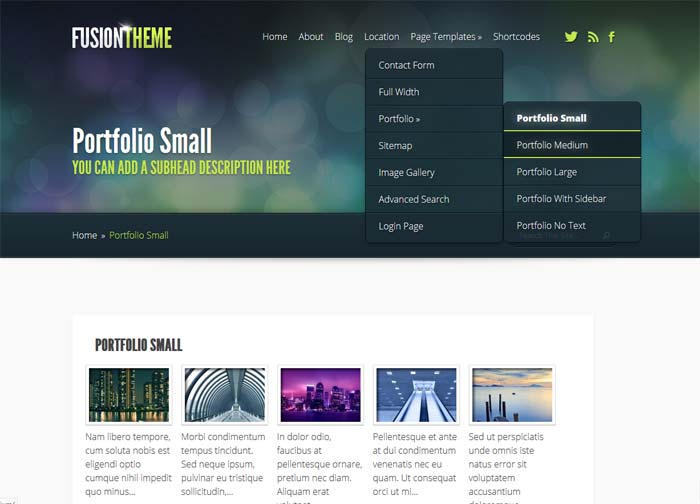 The design will impress your visitors and immediately set your site apart from the millions of WordPress sites that use free themes. Here are some of the benefits you get using this theme:
Unlimited Colors

You can use any color combinations you want, which helps you customize your site the way you want it. This helps to ensure that your site doesn't look like others using the Fusion theme.

Responsive Design

One of the best features of all themes from this designer is that they are responsive. This means that your website will look great no matter what type of device the visitor is using.

A responsive theme helps make your site mobile and tablet friendly, and will ensure that you aren't excluding any of your visitors. As more and more people access the web with smart phones, iPads and the like, this is an important consideration.

Themes designed by Elegant Themes are also compatible with all of the most popular browsers. So whether visitors are using Internet Explorer, Firefox, Safari or Google Chrome, they won't have any problems loading and viewing your site.

Updates

When you sign up with Elegant Themes (only $69 for all of their 87 professional themes), you will get perpetual updates. This ensures that your theme is compatible with the latest update of WordPress.

One of the limitations of free themes is that they may not work well as WordPress gets updated. With the Fusion theme, you won't have to worry about this. This way visitors will always be able to navigate your site the way you intended.

Top Level Support

Elegant Themes come with a high level of support. This is another feature that's missing with most free themes. When you use the Fusion theme, you will always be able to reach someone if you have a question.

Secure Code

Fusion and all the other themes in Elegant Themes' collection all use the most up to date and secure coding. This means your site will load quickly, and it will be secure. This is another area where free themes are not always up to par.
Who is Elegant Themes
The Fusion theme is not sold by itself, but as part of a whole collection of Elegant Themes. This is an extremely good value, as you get a total of 87 themes for the price of $69 only. This means you are paying less than $1 per theme!
While you may never use all 87 themes, it's nice to have such a collection of premium themes at your disposal. If you ever start more WordPress sites, you can use a different theme for each one if you want. Of course, since all the themes are highly customizable, you can always stick with one theme and still give it a unique look.
Aside from Fusion, some of the other Elegant Themes include:
These are just a few of the themes, and each one has its own unique look and style.
All Elegant Themes come with ePanel theme options, a convenient dashboard where you can manage your themes without doing any coding. You can do things like manage ads, change your layout, manage colors and optimize your site for the search engines. This gives you a great deal of control over the way your site looks and performs.
When you join Elegant Themes, you have immediate access to all of the themes, as well as their tech support!
Themes and Plugins
Aside from themes, Elegant Themes also has a selection of useful plugins. These too are sold as part of a package. You can get all of the themes and plugins for $89. Some of the plugins include:
Elegant Page Builder

Allows you to create many different types of layouts easily.

HandHeld Mobile Plugin

Lets you quickly transform a standard WordPress site into a mobile website instantly. This plugin works with any WordPress theme!

Maintenance Mode Plugin

Easily put up a "Coming Soon" message for a site you're still working on.

Elegant Shortcodes

Manage your website more efficiently with a large selection of handy and powerful shortcodes.
Conclusion
The Fusion theme, along with all 87 of the Elegant Themes' themes can give you the ability to create stunning, professional looking WordPress sites for any purpose. With all of these themes to choose from, you'll never have to worry about not having the perfect theme for your needs.
You may also be interested in the package that include Elegant plugins. Either way, you are getting a great value. Many users of the Fusion theme would probably be glad to pay $69 for that alone, but with Elegant Themes you get a whole collection to go with it!