How to Choose the Right WordPress Theme for your Website
Choosing the right WordPress theme for your website is more than just picking a theme merely based on appearance. While the style and layout of the theme is important, there are several other factors you should consider too. I suggest starting with the following.
1. Budget
There are three types of WordPress theme: free, framework (also called custom), or premium themes. The type you choose will largely depend on your budget. As you're creating your website for business purposes, you might have more success with a premium or framework theme. These can cost anything between $15 and $1000, so think about how much you're willing to spend on a theme before committing.
2. Monetizing
The next thing to consider is whether you want to monetize your website using advertising or sponsorship. If so, you need to find a theme that offers designated space for advertisements, otherwise you will find your theme looks cluttered and unprofessional when you try to squeeze in advertisements yourself. Types of advertisement you might want to add include banners, text adverts, and AdSense ads. These come in different shapes and sizes, so if you want to insert them now or at a later date, make sure your theme has designated space for these.
3. Impression
The third main point to consider when looking for a theme is the impression it will make on visitors. The theme will be representing your business, so it's important to choose one that aligns with your company's values and image.
Different types of theme styles
Once you've considered the three selection points above, you'll have a better idea of what kind of theme you're looking for. But the search doesn't stop there! When you look for a theme, you might see terms like "magazine", "corporate" or "portfolio" used to describe different themes. These terms all refer to different styles of the theme. If you don't know what they actually mean, however, or what kind of website each theme is really suitable for, then the terms can be more confusing than helpful.
When searching for themes, please note that not all theme sites use exactly the same terminology in categorizing their themes. The terms you see on one site might differ from those you see below and on other sites. The descriptions, however, should help you identify which category a theme fits into, and whether it can be useful for your website. I've used examples from Elegant Themes – a high quality, reputable premium WordPress theme provider, to illustrate each theme styles.
---
Magazine/Newspaper Themes
Magazine or Newspaper themes are excellent for sites that post a lot of content each day. The site's homepage usually looks "busy" as it displays the latest content as well as the best selection from each category. If you are going to be posting a large amount of content on a regular basis, and you want this content to get the maximum exposure possible, choose a magazine or newspaper theme.
A good example of Magazine theme is Magnificent.
As you can see from this mid-page screenshot, the homepage contains a lot of different content, including the latest posts, the most popular posts, categories, a post archive, and a selection of random posts.
---
eCommerce Themes
eCommerce themes are designed specifically for businesses that want to sell physical or digital products from their website. These themes usually allow you to create an online product catalog easily. Good quality eCommerce themes should enable you to turn your homepage into a digital storefront. They also usually include features such as shopping carts, delivery/shipping options, and online payment integrations.
Boutique is a very popular eCommerce WordPress theme which I highly recommend. Check out this theme if you are looking to start an eCommerce website. This theme is especially suitable for blogshops (online fashion boutique).
---
Responsive Themes
Responsive themes are designed to be viewed on both mobile devices and desktop/laptop computers. They have a flexible grid system so the website's layout can be optimized for different screen sizes.
Responsive themes aren't technically a theme style of their own, however I've included them as it's becoming more important for website owners to choose a theme that is responsive. The number of people that are viewing websites through mobile devices is increasing everyday, so its a good idea to find a theme that's compatible.
Check out our previous article where we recommend a few responsive WordPress themes.
---
Business/Corporate Themes
Business and corporate themes are themes that are designed to feature a specific product or service. While these themes showcase the products and services the business has to offer, they put a bigger emphasis on the brand itself. The layout is usually clean and easy to navigate.
A good example of a business theme is The Corporation.
As you can see, the homepage includes links to all the relevant areas of the website, but highlights only the important information, such as your main product.
---
Clean/Minimal Themes
Clean or minimal themes focus on the text content. These themes usually have a very simple design and a low amount of graphic element. This allows readers to focus on the text, without being distracted by images, banners, sidebars, and so on. This kind of theme might be suitable for businesses that want to showcase written work, such as writers.
Business Card is a good example of a clean/minimal theme.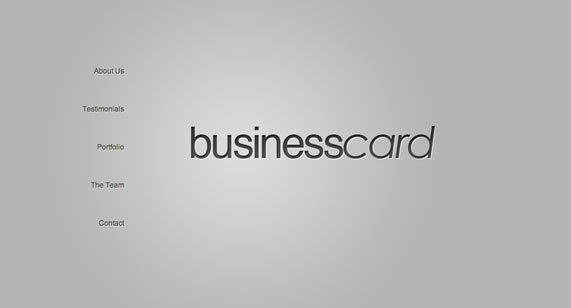 The page contains no graphics beyond the logo. Instead of scrolling up and down, or get distracted by too much multimedia, the reader's attention is drawn straight to the content!
---
Portfolio Themes
Portfolio WordPress themes are perfect for businesses that deal with designs and well… portfolios. This includes art, web design, photography, graphic design, modeling and similar industries. In contrast to clean or minimal themes, portfolio and design themes draw readers' attention to images, rather than text content.
ePhoto is a good example of a portfolio or design theme.
This mid-screen screenshot shows how the images are the focal point for this kind of theme. ePhoto is the perfect WordPress theme for creating an online portfolio!
---
Multimedia
Multimedia themes are designed for websites that want to post a lot of multimedia content, including video, audio and images. Good quality multimedia themes provide an easy way to share a variety of content. This type of theme is helpful for website owners who work with multimedia and want to showcase their portfolio to prospective customers.
Notebook is a good example of a multimedia theme.
---
Specialized themes
Sometimes you will see theme websites that offer very specialized themes for a specific purpose or a specific niche website, for example creating a directory or product review site. These themes don't necessarily fit into the categories above, but they're still important to mention. If your website has a specific purpose that goes beyond broader categories like eCommerce, you can try searching for a theme that is specific to your purpose.
An example of a specialized theme is In Review.
In Review is specifically designed for users who want to create a ratings and review website. It's designed to make it easy for website owners to install a ratings system – something that would be challenging if you were to use another type of WordPress theme.
Once you know about the differences between each theme style, you'll be able to further narrow down your search by identifying the theme that is right for your website. Good theme providers like Elegant themes should provide you with a full preview of a WordPress theme complete with full descriptions (and explanations), so you'll have a chance to see what the theme looks like in action.
Find out why I highly recommend Elegant Themes.