Jigoshop eCommerce Plugin Review
Jigoshop is an eCommerce plugin for WordPress. It helps you set up an online store quickly and easily, while providing all the functionality and tools you'd expect from a quality WordPress shopping cart plugin.
Developed by professionals with years of experience delivering online shops for global brands, Jigoshop provides shopping cart solutions for online stores. Once the plugin is installed, you can sell products through your WordPress website and keep track of key analytics and general statistics.
Jigoshop background
Jigoshop is a popular WordPress plugin with over 121,000 downloads to date and many positive reviews from WordPress users. The plugin is widely used by eCommerce websites of all shapes and sizes. The types of businesses currently using Jigoshop to manage their eCommerce business include jewelry businesses, online clothing stores, pet stores, art galleries, food blogs and many more.
As you can see, Jigoshop has a diverse range of uses. To check out whether it would be helpful for your blog, visit the Jigoshop official website to have a look around and see for yourself. You can check out their features, demo, live showcases, themes and additional plugins!
Features overview
Jigoshop's primary selling point is its simplicity. The majority of issues that could usually cause a headache with shopping carts are simple with Jigoshop. Because it is a plugin, everything you need that is related to the site shows up through your WordPress dashboard, so you don't need to log in to external sites or complicated control panels to edit or add inventory like you do with other shopping cart software!
The Jigoshop plugin has a range of customizable features that are designed to make life easier for you. As an out-of-the-box plugin, Jigoshop is designed so that you can install the features and start selling as quickly as possible. The plugin doesn't sacrifice speed for usability, however, and it still offers a range of customizable options that enable you to set up the plugin the way you want.
Here are some of the great features that Jigoshop offers online sellers that provide them with ultimate flexibility and freedom:
Payment Gateways

Jigoshop offers a range of payment gateways for free, including bank transfer, cheque payment, DIBS, PayPal and Skrill (i.e. Moneybookers). Merchants can choose to offer one, a selection, or all of these options.

You can also use other payment gateways for a fee. These include Stripe, Google Checkout and Sage Pay Direct, among others. These payment gateways are available to purchase as extensions, which I'll talk more about later in this post.

Shipping Options

As well as a range of payment gateways, you can offer customers different shipping options to choose from. This helps provide customers with a better user experience as, instead of being told how long shipping will take, they now have a choice and can choose to pay more for a faster and more reliable shipping method if they wish.

Physical Products vs Downloadable Products

Jigoshop is perfect for selling both physical goods that you need to ship to customers, and digital products that customers can download. Digital products that you can sell through Jigoshop include eBooks, MP3 files or any other file that the customer should download after purchase.

Jigoshop gives you a number of options when selling downloadable products. These include the ability to limit the number of downloads each customer can make of a certain product, and the ability to allow customers to download files from a secure URL on your website after purchase.

This WordPress plugin is also flexible when it comes to the kind of physical products you can sell too. As well as selling "simple" single items, you can sell items with variants, for example those that come in different sizes or colors, as well as grouped items, which display several products on the same page. This flexibility is extremely suitable for online fashion stores.

In addition to providing flexibility around how your inventory is displayed to viewers, Jigoshop's product screen also gives you the option to notify customers when certain items come back into stock and to choose a product's tax status.

Selling in different countries and currencies

This shopping cart plugin allows you to sell in different currencies easily. The plugin supports all currencies taken by PayPal and other payment gateways, so all you have to do is choose the correct denomination from the provided list. As easy as that!

Jigoshop themes

When it comes to an eCommerce store, appearance can win over or drive away a potential customer. Jigoshop have produced their own themes that fully integrate with the Jigoshop plugin and provide users with a seamless online shopping experience.

Similar to extensions, additional themes cost a little extra, although they are free with Jigoshop Club, which you can find out more about below.
Extensions
Extensions are an important feature of Jigoshop as they provide additional functionality on top of the basic package. Priced between $5 and $100, with several extensions available for free, Jigoshop's extensions act like plugins for the plugin.
Some of the features available as a plugin include the ability to add other payment gateways, display individual shipping prices for each product and to integrate with third-party premium or framework WordPress themes, such as ElegantThemes or WooThemes.
How to setup Jigoshop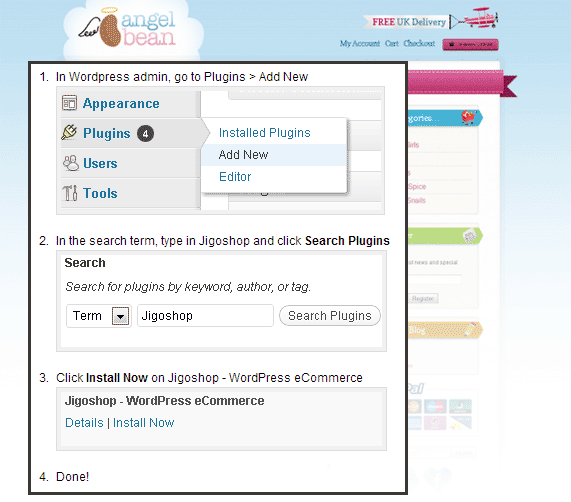 Jigoshop's beauty lies in its simplicity and the setup process is no exception.
Log in to your WordPress website's Dashboard and scroll down to "Plugins" on the left-hand side.
Click "Add New", then type "Jigoshop" in the search box on the next page.
Click "Install now" next to the Jigoshop plugin.
Done, your shopping cart plugin is now installed!
Once you've activated Jigoshop, the hard part is over. Now all you need to do is customize your settings, create some products and start selling! You can find more detailed information about exactly how to do this in Jigoshop's excellent resource section.
Jigoshop packages
Just as their plugin is flexible, Jigoshop offer a range of packages to suit all budgets and business sizes.
It's free to create a basic account at Jigoshop, and you can choose from a range of support packages or join the "Jigoshop Club". The standard account allows you to post on the forums, purchase support plans, themes, extensions and other Jigoshop products.
Monthly Support
Monthly support package cost $29 per month on a flexible contract that you can cancel at any time. You also get access to Premium Knowledgebase, as well as priority response to your questions.
Club Membership
Alternatively, you can also pay a one-off fee of $500 and gain life-time access to the Jigoshop Club. This provides you with Jigoshop's full range of support, the plugin's range of extensions, and Jigoshop themes! You also gain access to future themes and extensions, saving at least $2,500.
Yearly Support
You can also choose to pay yearly, at $99 per year. This will get you Premium Knowledgebase, and priority response to whatever questions or help you might need.
Remember, if you don't want to use any of the plugins support features or themes, you can still download Jigoshop and install it for free!
Monthly and annual support packages are great for a start, but joining the Jigoshop Club is the most cost-effective way to access the support and tools you need to create your eCommerce website. It's really affordable for the long run!
Conclusion
JigoShop offers everything you could need in a shopping cart. Simple to install, quick to set up and easy to use, this plugin offers you all the data you need for reports, and gives you an efficient way to manage inventory and options for your products.
Having used and tried many WordPress eCommerce solutions in the past, I can safely say that this plugin is one of the best, with some really good features. For an eCommerce product that both takes care of customers and the store owners, download Jigoshop today and take your business to the next level!