WooCommerce Payment Gateways

WooCommerce is a collection of WooThemes specially created for online stores and E-commerce sites which use WooThemes' WordPress templates. Each theme comes with a range of features that would boost the functionality of your store and simplify the business of buying and selling online.
WooThemes has a huge collection of high quality WordPress themes, from simple yet information-rich to advanced themes with multiple sliders, but regardless of the design you choose, all WooCommerce themes will come with the following features.
Sales and product statistics

Business is not just about selling and selling these days. Business intelligence is needed in order to improve sales, find out the strengths and weaknesses and discover consumer behaviour. WooCommerce themes provide sales statistics, best selling product reports and top earners figures for you to analyze and understand your business better before implementing measures to make more sales!

Simplify shipping charges

You don't have to crack your head anymore as WooCommerce have built-in shipping settings that allow you to set shipping costs per item or declare a flat shipping rates for all your products. If you ship globally, there is a shipping table extension too that defines each country's shipping rates and weight brackets.

This shipping charges module makes it easy to setup shipping charges for your products. It makes the ordering and purchasing a much better experience with integrated shipping charges calculation.

Manage orders and customers

Handling orders are a critical part of every business. You don't want to lose a customer's order or send the wrong item to the wrong address. WooCommerce provides an order management suite that allows you to add and edit orders, track the statuses of orders, send email invoices and reduce stock.

Customers stand to gain from the customer management feature too. Each customer has his/her own account section where they can add or edit shipping addresses, view and track past sales and orders, change their login passwords and amend personal details.

Inventory management

Just imagine if you had promised your customer that they will receive their orders in 2 days, only to find that the item is out of stock as you are about to package and ship it out! That certainly doesn't look good on your business.

WooCommerce themes will never let that happen to you as it will list the status of your stock as well as highlight the items that are running low. This makes inventory management easy at your fingertips!

Multiple payment gateway options

WooCommerce is so flexible that it allows you to plugin your preferred payment gateway, with just a few mouse clicks! If you prefer to save the trouble of adding your own, simply choose one from a list of popular payment gateways that WooCommerce supports. There are more than 36 payment gateways to choose from altogether, including PayPal Pro, Google Checkout, Inspire Commerce, Authorize.net and Amazon FPS Gateway.

If that's not enough, WooThemes has collaborated with 6 more gateways to offer you even more choices:
1) FirstData, 2) Skrill, 3) Payment Express, 4) PagSeguro, 5) WorldPay, and 6) Pagamento Digital.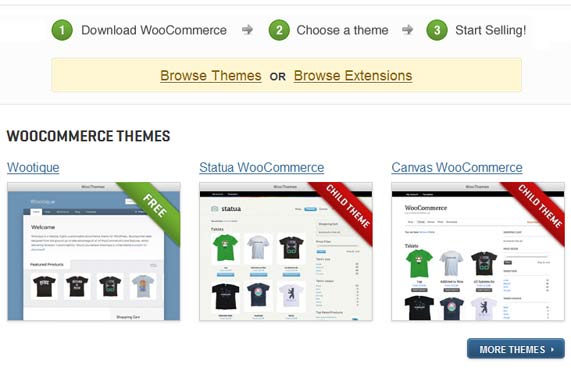 WooCommerce themes are among the best created for businesses. Their range of features is powerful and makes online business management a breeze. No other theme allows you to manage admin and reporting, shipping and taxes, customers and orders as well as products and inventory as well as WooCommerce themes do.
The number of reliable payment gateways supported alone is a strong reason why WooCommerce themes should be your choice of themes for your website. Payment gateways are undeniably one of the key aspects of an online business for it is the final step of closing a sale, which you certainly don't want to lose a customer at the very end due to failure to process a payment.
Don't go with another E-commerce theme before checking out WooCommerce.