Elegant Themes Foxy WordPress Theme

Foxy WordPress Theme is one of the many themes that you get when you order the Elegant Themes package. This is a good way to get a large number of premium WordPress themes that you can use for almost any purpose. In this review, we will be talking about what you get with Elegant Themes, and focusing on the Foxy theme in particular.
The Foxy WordPress Theme
This theme is one that works well for almost any type of business. Whether you have an e-commerce site or you are marketing your SEO services (or anything else), the Foxy theme will give your site a distinctive and elegant look.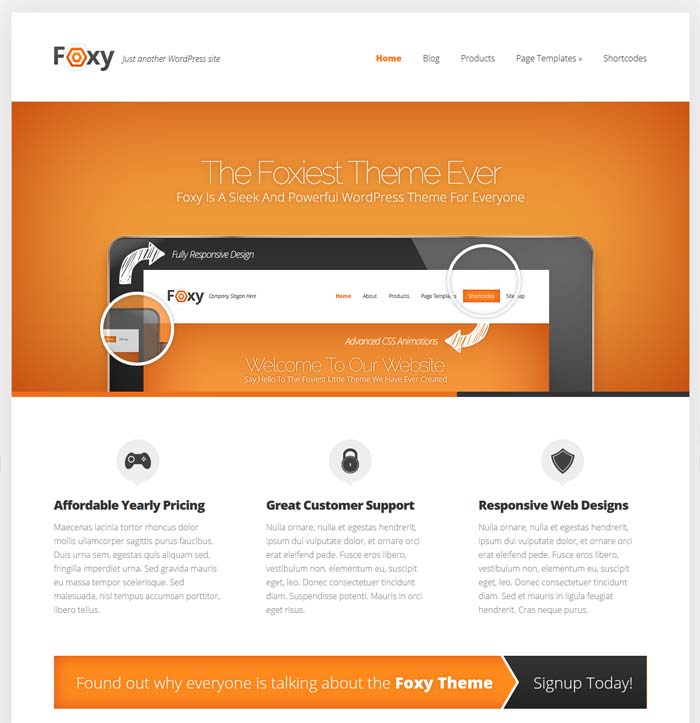 It has a simple and functional layout that lets people's eyes naturally focus on your content. When you use this theme, or any Elegant theme, you also have the ability to customize it. You don't have to worry that your site will look exactly like someone else's, as one of the benefits of these themes is the many ways you can change them around to your liking.
Here are some of the features you get with the Foxy WordPress Theme:
Unlimited Colors

This is the first way you can immediately distinguish your site from all others; the ePanel (a user friendly control panel for the theme) allows you to change the colors and background images any way you want.

Secure Code

One of the reasons to choose a high quality premium theme is that it's more secure than a free theme. Elegant Themes undergo security audits on a regular basis and they are W3C compliant. This helps to ensure that your site is secure and free from malicious codes.

Compatible With All Major Browsers

No matter which popular browser your visitors use (i.e. Firefox, IE, Chrome, Safari) they will have a good experience viewing your site. The theme designer test and make sure their theme work well on all major browsers.

Responsive Design

This is an important feature when targeting today's internet users. Responsive themes are made to display properly on any type of device. It won't matter if your visitors are using a computer, tablet or smart phone – the Foxy theme will still look great and professional!

Support and Updates

Elegant Themes provides full support when you buy their themes. You can be sure that you can easily reach someone if you have a question. You can use their support forum where the theme's designer and developer will respond to your issues. You will also be able to get help from other users!
Themes from Elegant Themes are frequently updated. You will get free updates, so that you can be certain that your site will continue to look great even when WordPress is updated.
87 Themes for One Price
What's really nice about Elegant Themes is that you get 87 different themes for only $69. So even if you start out only wanting one theme, such as Foxy, you will have a whole collection at your disposal.
There are specialized themes for online stores, such as StyleShop; technology oriented themes like Fusion and even Explorable, a theme that allows you to pinpoint locations using Google Maps.
When you get Elegant Themes, you'll be able to manage them using the theme's options panel (known as the ePanel). This area lets you make adjustments such as changing the layout or managing ads. Best of all, you can do all this without touching any codes.
You even have the ability to optimize your site with the search engines. You can manage your titles, keywords and meta tags to ensure that your content is SEO friendly.
Most people who like WordPress end up creating multiple sites, and it's nice to know that you are all set up for themes. With the whole set of Elegant Themes, it's safe to say that you'll never have to purchase another theme again!
Premium Themes and Plugins
If all of these themes aren't enough, you also have the option of ordering a package that adds on some valuable WordPress plugins. These plugins are:
Elegant Shortcodes

Lets you create all kinds of layouts in seconds using efficient shortcodes.

Maintenance Mode Plugin

If you have a website that's not quite ready you can put up a "coming soon" page so that people will know you're hard at work on the site.

HandHeld Mobile Plugin

Allows you to make any site mobile compatible with any theme.

Elegant Page Builder

Gives you an advanced visual editor for creating stunning layouts with any theme.
If you want all 87 themes plus these plugins, the cost is only $89 per year. There is also a Lifetime Access option that gives you all the themes and plugins for a one-time fee of $249.
Conclusion
The Foxy WordPress Theme, along with the whole collection of Elegant Themes gives you the ability to create professional looking WordPress sites with no fuss. You don't need to be a coding or design expert, as these themes can be easily managed via the theme's options panel.
You may want to get the package that includes the plugins as well, depending on how much flexibility you want. Even the 87 themes alone, however, are a great value as you are getting each theme for less than 50 cents!
If you're looking for a distinctive theme for your WordPress site, I'd strongly recommend checking out Elegant Themes. Take the time to browse through their whole collection. You may find that the Foxy WordPress Theme, or one of the other themes is exactly what you were looking for!
Oh, do note that there is an unconditional 30 day money back guarantee when you order Elegant Themes!