20 Cool Free WordPress Themes
Looking for free WordPress Themes? The year 2011 is coming to an end and 2012 is just a few months away. It is about time that you change your blog theme or update it to the latest versions. The best part of all is that you don't even have to fork out anything to have the themes installed; you just get them absolutely free online.
Choose various free WordPress themes that would suit your niche the best. For first-timers, you might get a little bit confused since choices are aplenty but the great thing is that you can always experiment with these different themes and find out what works for you and what doesn't. After all, you haven't got anything to lose. Here, in no particular order, are 20 cool and free WordPress themes for you to tinker with:
1. Ready2Launch under construction page theme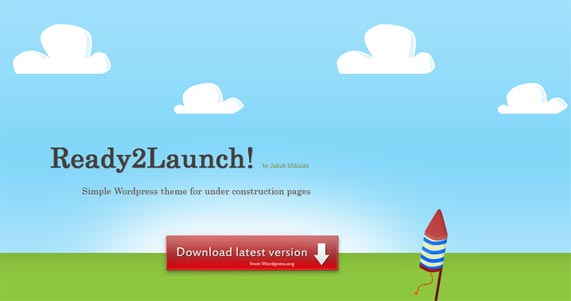 To tell you the truth, this theme is one of the cutest WordPress themes I've ever come across. It appears to be very child-like, with cute clouds and blue skies as well as a small rocket gracing the look. To describe the theme in one word: adorable. Just like the theme's name suggests, the theme is waiting to be launched any time.
Designed by Jakub Mikulaa, the theme has key features such as being WordPress 3.0 Custom Menus ready, ready-to-implement mail form, easy-to-setup WordPress theme with instructions and admin options page included and the JS Countdown by Robert Hashemian. There is also a demo included if you need some help getting started. This theme is suitable for almost any site which is still under construction as Ready2Launch is a simple WordPress theme meant for "under construction" pages.
2. Skeptical flexible WordPress theme
Skeptical by Woo Themes has got to be one of my favorites because of its user friendliness. Since the layout is very flexible, you could display "related posts" close to the latest posts on the home page, or you could also have a completely widgetized sidebar.
In addition, you can also add your Flickr stream to the footer section and showcase three noteworthy blog posts tagged with a specific tag which you have set under the theme options. The 2010 theme by Nur Fathihah also has unique features which include multi-color styles, custom widgets, custom footer area, alternative sidebar and custom typography. The blue and white color combo used in the theme look especially great for news-type websites or blogs which are constantly updated with the latest news or gossips.
[box type="info"]Check out more Premium themes from Woo Themes.[/box]
This Anniversary theme is one of the sweetest WordPress themes ever made; it's a classic type of theme with some layout options. The theme comes with a custom "Thank you notes" section which allows you to post reviews, quote or greetings. The theme is special because it is widget-ready (footer and sidebar), easy to setup, has a theme options page, is WordPress post thumbnail enabled and has WordPress 3.0+ Menu Management Support.
The theme also features built-in pagination, grid and standard posts listing with or without thumbnails, JQuery PrettyPhoto Lightbox, JQuery Forms, Ajax based contact form, live form email validation and supports a built-in widget that features the latest Tweets. The theme is really great if you're celebrating the anniversary of some special occasion, such as a 3-year establishment of your blog/site or even the anniversary of your wedding and such!
At first glance, the Simplo theme by Site5 is just like any other typical WordPress theme. However, it comes in 6 different colors which you can choose from, making it more special than the rest. Among the premium WordPress theme's free shared hosting features include an easy-to-use control panel (with tour and demo), PHP, MySQL, Ruby, Python, 24/7 tech support via email and chat, 99.9% uptime guarantee as well as 45-day money back guarantee. Since the theme is made to be in chronological order, it is great for a journal-type websites or blogs such as a travelogue or food diary.
5. Aggregator Simple WordPress theme
The Aggregator theme is all about simplicity. You can see it right through the theme with its simple and no-fuss layout. Among its notable features include a widget based layout (add as many feeds as you want using one single widget again and again), post count on each feed, an option to display the feeds as images or post titles while aggregating feeds for image or video site and Aggregate feeds of any kind be it blog posts, Flickr images, video or audio.
The theme also allows further snippet of the article to be displayed, features 2 detailed color schemes and a well-designed section for comments. I personally like this comment layout the most! Although the theme tries its hardest not to appear mechanical, I personally think that any auto or IT-based websites or blogs would benefit a lot from this theme.
[box type="info"]Templatic themes are elegant, features rich and user friendly. View more themes from Premium themes from Templatic Themes.[/box]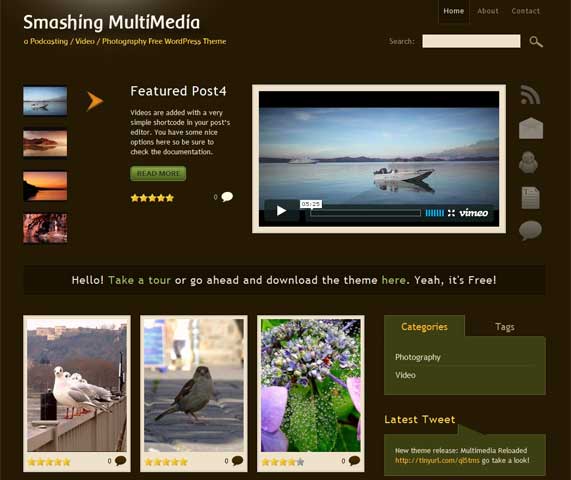 When I first laid eyes on the theme, I wasn't sure where to focus at. It is literally like flipping the pages of a real magazine, perhaps slightly better. Not only does it look so vibrant and lively like a real magazine especially with the colorful and various advertisements on the right side of the theme but there are various other goodies waiting for you.
The WordPress theme has features which include free podcasting, video and photography, easy media embed method, flexible post in any category of your preference, flexible main site navigation and various types of splash image and post teaser. There is also a dynamic appearance of subpages, 8 independent widget areas, solid security precautions and spam filtering options. If you're planning on setting up an online publishing or magazine blog, this theme will work perfectly for you!
7. Revolt Theme unique WordPress theme
Make no mistake; this theme is not for the faint of heart. Made for the daredevils and the non-conformists of societies alike, the Revolt theme will surely bring out the inner rebel in you who's against the mainstream. It doesn't matter what the cause you're fighting for as long as your website stands out from the crowd. With the Revolt theme, you're most likely to.
The WordPress theme enables you to express yourself through a blog with tons of attitude. Revolt is a unique theme for your WordPress blog; it is rather customizable and comes fully packed with bunch of handy plugin and tricks. You've got to see it to believe it but one thing's for sure is that Revolt will definitely rock the boat out of any websites or blogs discussing political/religious and any other sensitive issues!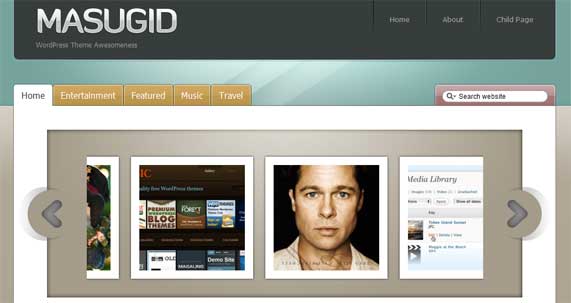 The Masugid WordPress theme has a stylish featured content slider to showcase your posts. This special multi-colored 5-in-1 free WordPress theme is packed with a great framework and a robust admin options panel to accommodate the General Settings, Page Tracker, Social Networking, Related Posts, Page Navigation and Custom Ads Settings.
Among its other theme features worth mentioning include being SEO optimization, automatic thumbnail resizer (without using a custom field), WordPress version 2.9+ compatibility, RSS and Twitter subscription, Google Analytics code integration, Built-in Page Navigation, Featured Video, Featured Photos, Advertisement Blocks Ready and Gravatar-enabled. Since the theme looks rather simple but focuses heavily on the site contents, you'll have the chance of showcasing your posts easily. The theme is especially great for lifestyle and entertainment websites or blogs where the featured personalities or items are the main attraction of the site.
9. Kelontong Free WordPress E-Commerce theme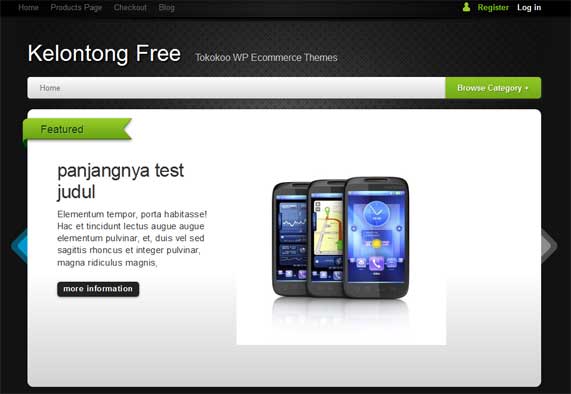 This 2010 WordPress e-Commerce theme is a darker, Mac-style AppCloud version. But even if you have AppCloud, using this theme for your online store will do you no harm. The designers have added a few more powerful features to it and the result is the highly popular Kelontong WordPress e-commerce theme. It is designed and sliced by iCreativelabs' WordPress ninjas. As usual, they kept the design sleek and simple while their CSS team focused on products showcase. The result, a beautiful online store that helps with your selling.
Valid and multi-browser compatible, the code gives you full control to customize every section of the theme. It isn't hard to figure out who would benefit the most from this WordPress theme. If you own an online store, Kelontong is for you!
10. Akylas WPCorner free Magazine WordPress theme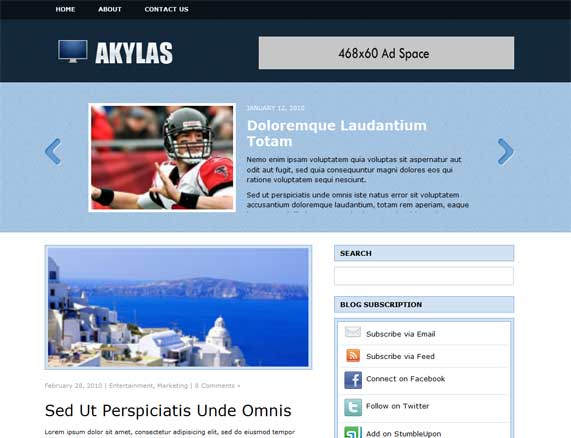 This free WordPress magazine theme carries a blue shade that is perfect for any kind of website or blog. The Akylas theme is widget-ready, advertisement-ready and is an easily customizable theme to use. It works well with IE7, IE8, Firefox, Safari, Chrome and Opera as well as on the latest version of WordPress.
While the slider will showcase images of the featured articles you have selected for your blog to be displayed, the images you attach to your posts will automatically be used as thumbnails on your main page. The theme does not require any custom fields to be added, making blogging a hassle-free affair.
11. Workaholic free minimalistic WordPress theme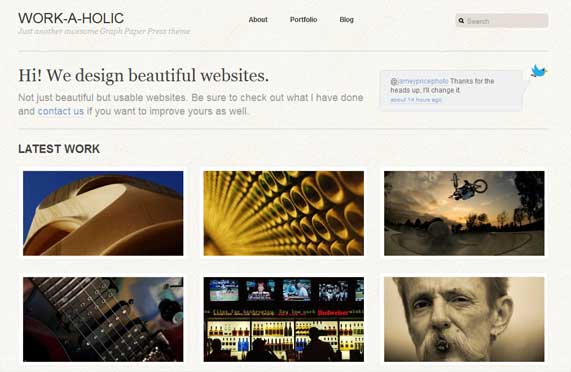 Workaholics, take note. The Work-a-holic WordPress theme by Graph Paper Press is a free minimalistic two and three-column WordPress theme that focuses mainly on showcasing portfolios for artists, web designers, photographers and illustrators. So if you think you're one of the categories mentioned, this theme would suit you perfectly!
Among the theme's main features and design options include its clean grid layout, flexible post thumbnails, easy menu customization as well as a variety of widgets to choose from which you may add as functionality to your site.
[box type="info"]Visit Graph Paper Press official website to find out more themes they are offering.[/box]
12. Tech9 clean white corporate style theme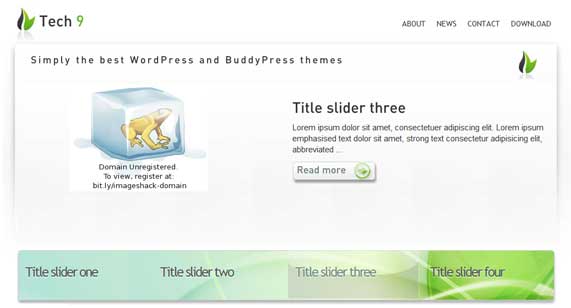 Do you need to impress your readers with a website or blog that doesn't look too cutesy or playful? Then, Tech9's clean white corporate style theme with WordPress 3.1 features such as a custom menu and jQuery powered slider is the answer to your every need.
Tech9 consists of an edgy white layout with custom JS built-in, three/four column fluid layout for a WordPress powered site, two sidebars with typical WP action like calendar, recent comments and a Flickr support built in with the main column on the front page showing the latest posts with recent 7 posts underneath. Business owners and alike, this theme is for you.
13. Bright Sky by Kreative Themes
Minimalistic website owners/bloggers who favor simple design, this simple theme is for you. Bright Sky is a fantastic design that would make your website/blog awesome. It is simple yet attractive and unique. Among the theme's features are complete theme documentations, Kreative Themes option panel, compatibility with the latest version of WordPress and dedicated support. Rest assured that you will like this theme.
[box type="info"]Visit Kreative Themes official website to find out more creative themes from them.[/box]
This is by far one of the best WordPress themes available for any wedding blogs and websites. On the main page, everything is made clear, so you won't be left wondering and trying to figure out what the site is all about. With lovely and cute fonts, a main photo that is big enough and originality, this free WordPress 3.0 blog theme for the wedding website can do no wrong.
Among the other notable features include WordPress 3.0 compatibility, beautifully simple design, Tweet posts, custom sIFR font, featured images, custom background, custom header and easy modification. That's not all, for you will also get clean commented codes, multiple widgetized sections, gallery page template, full width Page template, menu management, and also Hooray! If your niche is wedding and marriage, then this wedding theme is the perfect fit.
For those of you who like to write down every single detail about life, ditch your old-fashioned diary and switch to one of the coolest free WordPress diary themes now. Brought to you exclusively by the well-known Site5 Web Hosting, your virtual diary can be easily accessed from anywhere, even from your iPad and iPhone.
Among the theme features are as follow: HTML5, CSS3 Inside, widget-ready, Theme Options Page, latest Tweets built-in widget, built-in pagination, Google Web fonts, JQuery PrettyPhoto Lightbox, JQuery Forms, Ajax-based contact form and also Live form email validation. The theme would definitely be perfect for travelogue and journal websites or blogs.
The highly popular E-commerce WordPress theme AppCloud is finally available for free, the Lite version that is. After a few massive bugs-killing sprees and validation repairs, AppCloud is now available to be downloaded for free. Notable features in AppCloud include its simple layout, clean and professional look, 960.gs, readability, WP E-commerce integration, JavaScript slideshow and add-on random app/gadget images at pages.
You would also enjoy the Add 2 layouts (horizontal and vertical) for app/gadget images, contact form with re-captcha integration, Valid CSS and XHTML, Add registration plug-in, categorized products view, products search and widget sidebar. This theme will appeal to both business owners and bloggers alike, and is a perfect WordPress theme to host your apps and software E-commerce store.
[box type="info"]Love themes designed by Tokokoo? Check out more themes from Tokokoo themes.[/box]
On Pengbo's Theme, you'll find four different themes to choose from – Corporattica V0.2, Pengbo's Inspiration V0.2, GreenieWP and Aurelius. Each of these different themes is unique and they all serve different purposes and niches.
The Corporattica is great for business websites/blogs while Pengbo's Inspiration is especially made for web and graphic design, illustration as well as marketing services (it's simply a showcase of your portfolio). Meanwhile, GreenieWP is great if your website or blog is all about campaigning and supporting mother earth or organic-related stuff while Aurelius theme is the most flexible of the four themes since it's perfect for any kind of websites/blogs.
Among the themes' special features include upgraded JQuery plug-in to version 1.1 and social media sharing features such as StumbleUpon, Reddit, Delicious, and Digg.
18. SimpleCart shopping cart WordPress theme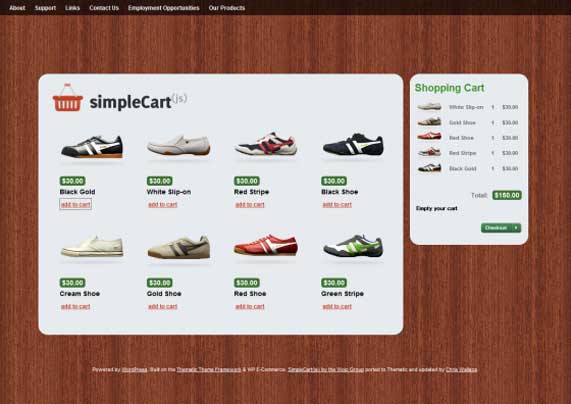 The free e-commerce theme by the famous WordPress developer Chris Wallace is a simple, attractive and flexible WordPress theme that taps into the power of both Thematic and WP E-commerce. Its notable features include AJAX cart functionality, a grid layout for products, flexible color scheme and easy to swap out images.
You'll have the complete freedom of customizing the entire theme according to your personal needs. The theme is truly perfect for websites which need a great looking and functional online shopping cart.
19. Spectre portfolio theme
Designer Matt Brett surely knows his way around WordPress themes. Judging by the look of the Spectre theme, the guy certainly knows what he's into. The impressive and advance WordPress theme is understated yet truly refined. Spectre features a portfolio and blog built for WordPress 2.7+ and doesn't require any plugin to run out of the box.
Among its special features include 3 beautiful color schemes to choose from, gorgeous featured posts showcase that requires minimal effort to take advantage of, compatibility to be used for portfolio items and/or blog posts as well as super lean markup and CSS which makes advanced customization a pleasure. The theme is perfect for artists and designers alike.
20. Codium Extend minimalist and responsive theme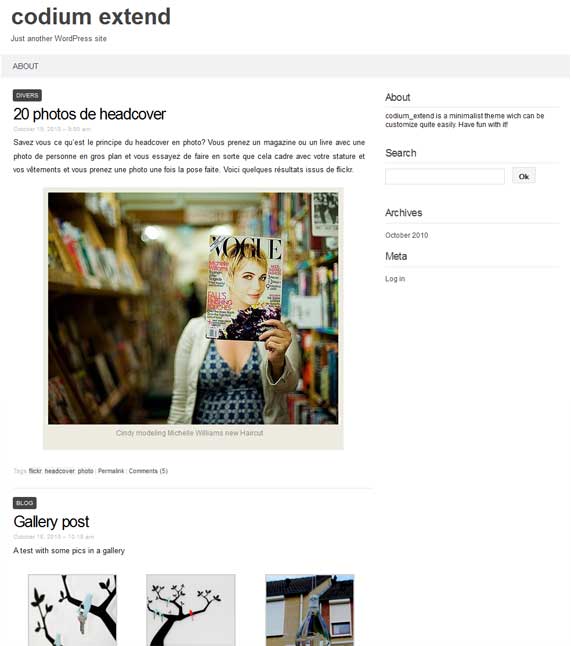 The Codium Extend is a minimalist and responsive theme for WordPress and works great for all the WordPress 3. + features such as custom menus, colors or background. Light colors and white is perfect for a really nice blog. Perhaps the best part of the theme is that it will be well-displayed on any major platform like iPads, computers or iPhones, since the theme is quite responsive.
The main features include latest WordPress versions support, widget ready, mobile (iPhone and smartphone) and handheld (iPad, Samsung Galaxy tab and etc) support since 1.0.5, translation ready and Russian support. On top of that, the Codium Extend is also Wp-Pagenavi ready, supports custom colors, header image and backgrounds and comes with nice Google fonts for the title and description. The theme is perfect for any website owners or bloggers of any niche. A very flexible WordPress theme indeed!
---
It really helps if you could just browse through the list of 20 free WordPress themes above a little bit before deciding on a theme. This way, you're guaranteed to find what you've been looking for. By selecting a theme that suits your website and your niche, you'll definitely get increased traffic, better sales or a higher conversion rate.
The main point here is to get really inspired with what you're seeing and then try to emulate and interpret it in your own way by being unique and standing out from the crowd. If your niche is highly competitive, then your theme will play a significant role in your website's success.