Beautiful Photography Theme for WordPress
Photo enthusiastic, here's one premium Photography WordPress theme that you will not want to miss! The Statua by WooThemes, a popular WordPress themes provider, is definitely one of those ingenious themes that you know is set to take the web by storm. This theme was designed by Chris Rowe, who was also the creator of a couple of other themes which are among the top 5 WooThemes. For the record, Statua has reached the top 20 WordPress themes position within 30 days since its release in June 2011. That says much about the response towards it, doesn't it?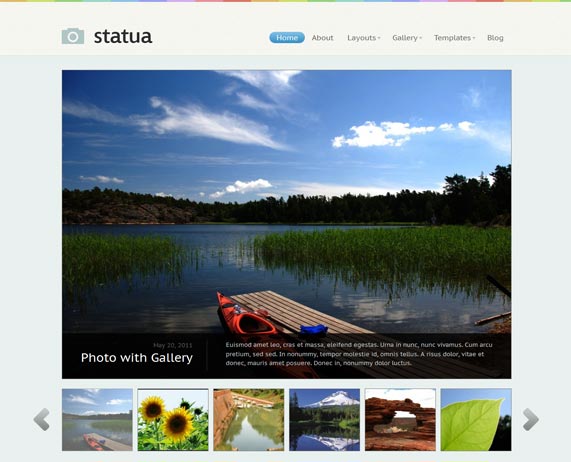 Ok, a little about the Statua theme. It is a beautiful and inspiring looking gallery style WordPress theme. If you enjoy taking photographs or is a freelance photographer, then this theme is most suitable for showcasing them in a neat and stylish manner. It is quite similar to Flickr and has incorporated JavaScript slider to give a stylish yet professional look. Having said that, we find that Statua also works great as a wedding or babies online photobook.
For an impressive looking theme like the Statua, we were initially concerned that practicality may be compromised. We are glad to say that our concerns were unfounded. While it is a ready-to-use theme, WooThemes had included some amazing features in Statua that ensured flexibility and control over the layouts. Below are some of the features that we like.
What are the features we like in this Photography Theme?
Customs Posts Type for Photos

This function comes along with WordPress 3.0 where after many requests from the users, have finally included this function which allows customization of individual posts. What this means is that users and bloggers can now create and manage photos, galleries and other contents at your site easily… without depending on a plugin. This is great news in the sense that not everyone wants generic post styles. Users generally want customization flexibilities to make their content unique. This is where this function plays a major part.

Alternative Layouts

This is probably the most impressive feature in Statua, at least for us it is. WooThemes had offered 3 alternative homepage layouts, each with its own uniqueness. Each of these homepage layouts has their own control panel so you can further customize them. These can be used as page templates too, if you so wish. As far as we see it, there's only one downside and that is you may have problem deciding which layout to use. Haha!

Photo Sliders

The other wonderful feature is the JavaScript sliders. We feel that this slider is most crucial in a photography theme as there will be many photos or content and the last thing you want your readers to do is to get lost in the galleries. By providing a slider, you can showcase all your best photos one at a time without having to wait for downloads, which will be the case if you were to publish each photo as one post. You can even customize the slider in the options panel eg to adjust the slider's speed or to choose a cool fading effect.

Customs Widgets

As with WooThemes' other products, Statua too is widgets-friendly and widgets-ready. There are many widgets to make you happy with Ad Space, Blog Author, WooTabs, Subscribe, Feedback, Search, Embed/Video, Flickr. You have a choice of placing these widgets at the sidebar or at the 4 areas in the footer. And in this social media age, WooThemes has made it really simple to add Twitter and Facebook in Statua.
With a combination of awesome designs and dependable support, the Statua is bound to impress even the most difficult critic. It is one of the most affordable personalized online galleries you can ever wish for. You get cool layout choices, flexible navigation and awesome presentation all in one theme. This is one of the best photography WordPress theme!
Life just couldn't get any better than this. But don't just take our words for it, do hop by and have a go at the demo and judge for yourself. Visit WooThemes to find out more!