Solostream multipurpose WordPress theme
When it comes to choosing an excellent multipurpose WordPress theme for multiple usage, there is hardly a theme better suited for your needs than the WP-Mystique theme from Solostream. Maybe you cannot decide what kind of theme you should go for when it is your personal blog you are thinking about, a business site you want to perform a facelift on or even an online magazine which you manage as part of your work-from-home job.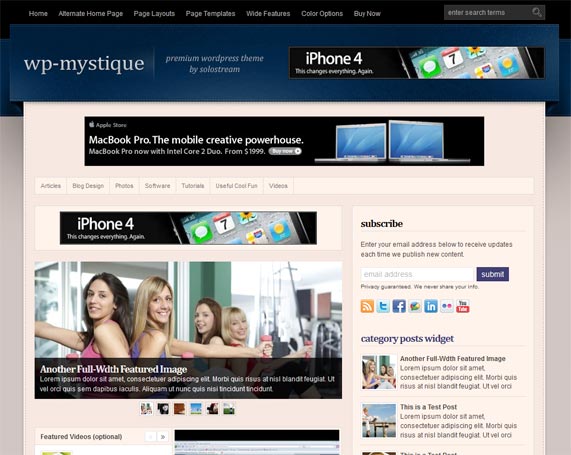 The versatility and all-rounder capability which Solostream designers had took pains to instill in the theme means that whatever its intended area of use, you can be sure that the WP-Mystique theme will be more than able to cope!
Reflecting Solostream's commitment in catering for its huge and varied client base, the WP-Mystique theme comes in three price categories which you can choose from. This gives you the opportunity to pick and pay for only what you want and need. The three options which you can choose from are:
WP-Mystique Basic Edition

At just $79, the basic edition of the theme is the cheapest option you can go for. As such, the cheaper price naturally reflects a certain lack of features. For instance, despite granting users access to basic perks such as access to a technical support forum and free lifetime upgrades, users of the basic edition are limited to only usage on a single site. This may pose more than a little problem if you were intending to use the theme for both your business and personal sites.

Apart from that, unlike users of the WP-Mystique Premium Edition or WP-Mystique Developer Edition, if you use the basic edition you will not be able to remove the footer link to Solostream; though this link is very small and not intrusive at all. Nevertheless, if you are thinking to try out a great theme which is value-for-money and intend to expand its usage after a trial period, rest assured that you can do so at anytime and very easily. You can upgrade to the Premium edition just by paying the price difference between the two editions. This means for just an extra $50, you can upgrade and enjoy all the features the Premium edition has to offer!

WP-Mystique Premium Edition

This is the edition of this multipurpose WordPress theme which I would advise you to go for. At just $129, a mere $50 more than the basic edition, you gain access to all the goodies that the basic edition can offer, plus a few more. You will not be limited to use the theme for only a single site anymore. In fact, there will not even be a limit, in other words you get unlimited usage of the theme on as many sites as you wish! Besides that, the footer link which links to Solostream can also be removed in this edition, giving your site a more professional look.

To justify the higher price, Solostream will be throwing in two more gifts for buyers of the Premium Edition. The gifts are two bonus video clips through which you will be able to learn about WordPress SEO secrets and Website Traffic tips! These videos show you valuable tips and tricks on how to use SEO to optimize your website and get more traffic to your website!

WP-Mystique Developer Edition

Unless you are a developer who plans to use this theme in developing a client's website, I won't really suggest you to opt for this edition. But if you do choose to buy this theme, be prepared to shell out an additional $150 for the theme.
Solostream WP-Mystique Features
Compatible with latest WordPress versions

This ensures that your blog or website will be fully compatible with the latest WordPress releases.

Simplified customization with a theme settings page

Take control over the details of your website with the settings page that Solostream provides! Changing colors, switching fonts, adding widgets and etc are made so fun and easy!

Additional template for different types of sites

Differentiate the look and feel of your personal blog and that of your corporate website with a different design template. Changes are reflected instantly!

Integrated page for author details

Ensure that you get due credit for the posts you create by having the capability of having an author credit page which specifically displays the details of post.

Automated thumbnail posting

With this automatic feature that Solostream provides, you never have to worry about forgetting to upload thumbnails again! Thumbnails will also be generated automatically.

Flexible ads management

Monetize your blog by placing some advertisements on the site. These ads might get you a steady stream of income as long as you have the traffic!
In essence, WP-Mystique is a great theme brought to you by the beautiful people from Solostream. It is designed to be a multipurpose WordPress theme which will meet most user's needs. To meet your budget too, Solostream has thoughtfully rolled out different editions of the theme so that there will be a suitable choice for everyone.
For those who wish to go on a template purchasing spree too, here is another piece of news that you will be delighted to hear about! Solostream is in the midst of a hot promotion which gives you 67% of the price of your total order as long as you are buying three themes or more! Now, that is what I call bang for the buck.