Tips for building a successful WordPress Portfolio Website
One of the most popular types of websites nowadays is the portfolio site, where the website owner displays samples of his or her work. These may be photographs, artwork, videos, slideshows, documents or just about anything that can be portrayed as an image.
Even before the digital revolution, artists, photographers and other professionals commonly carried around portfolios. Now the preferred way to display a portfolio is online. In fact, next to blogs, digital portfolios are the most popular type of website. If you need evidence of this, take a look at the large number of WordPress portfolio templates offered by creators of premium WordPress themes such as ThemeForest.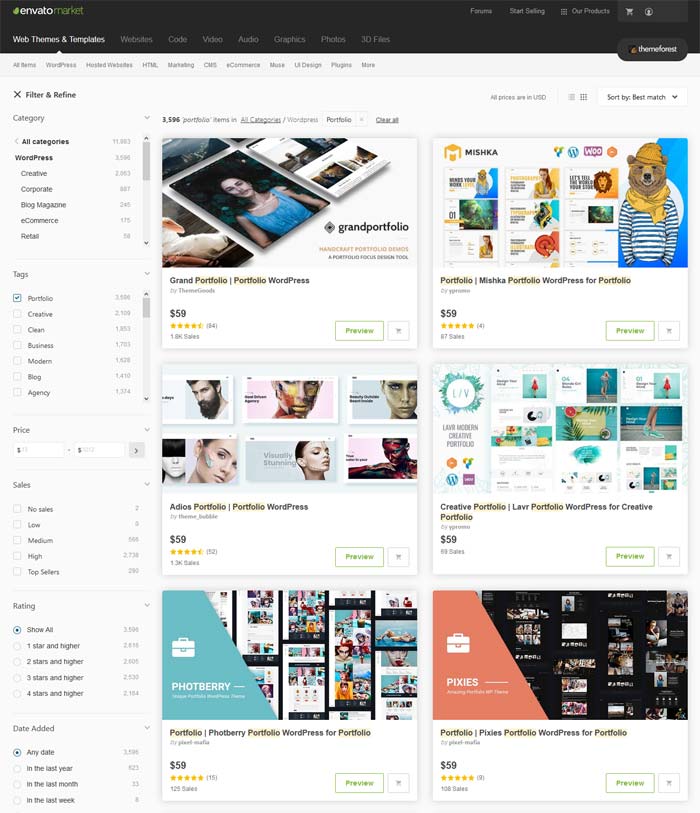 The benefits of having a portfolio site are substantial. You can easily display your work to clients, prospective employers or anyone who you'd like to show it to. It's possible to get new clients or sell your work directly from such a site. Or it can be the crucial first step in building a relationship with a client.
Yet there are also challenges when it comes to building portfolio sites. After all, this is an image-based site, so you must have a polished and professional appearance. There is also the problem of having your site look identical to the multitude of other portfolio sites out there.
While the look and design of your site is obviously important, what is even more critical is having your content well presented and organized. This helps to differentiate your site from the competition and can also boost your search engine ranking. With this in mind, let's explore some of the best ways to create a successful WordPress portfolio site.
Start With a Well Defined Objective
If you want to create a professional looking portfolio site that gets lots of traffic, you need to start off with a blueprint. What exactly do you want to achieve for your site?
Your main goal may be:
Building your brand
Getting potential clients interested enough to contact you
Finding a full time job in your chosen field
Selling your photograph/artwork/prints or other creations
Your specific goals will determine the choices you will want to make when building and maintaining your site. Once you've identified your primary objective, you can then set some smaller goals, such as weekly or monthly. This could be anything from selling a certain number of items to acquiring a certain number of commissions. That way, you can tailor your site to achieving these goals.
Essential Qualities of a Compelling Portfolio Site
When it comes to having an impressive portfolio site, what really counts are the items in your portfolio. While other features, such as the right WordPress theme and the colors and layout of the site also count, when it comes down to it people are going to be mainly focusing on your actual work.
While you cannot force people to admire your portfolio, you can display it in the most appealing manner possible. With a portfolio site, you are a type of curator. Just as the curator of a museum or art gallery wants to display paintings in a way that visitors find most attractive, so you want to do the same with your website.
One of the first things you must consider is whether everything on your site is relevant and harmonious. This includes the title and description of your site, the categories you have listed and the written content describing your portfolio items.
This goes not only for the site as a whole, but also for each page of your site. This is particularly the case if you have a large site with many categories. You want to be sure that all of the categories are clearly described and that everything is properly categorized.
You can think in SEO terms as well when you create titles, categories and descriptions. For example, you can do some keyword research and find out what terms your potential clients and other visitors might be searching for to find your site. Remember that your first goal is to get people to your site in the first place. Then, of course, you want to keep them there long enough to make a strong impression.
It's more important to impress visitors with your work than to present a huge number of items in your portfolio. You want to give sufficient attention to every item you display, describing it thoroughly and accurately. Quality images are a must with a portfolio site, but sometimes having fewer items on display provides more space for visitors to focus on each one.
Another way to grab visitors' attention is to give them several choices for interacting with your content. You could, for example, provide static images, slideshows and videos. This allows people to choose their preferred way of looking at content. Quality WordPress themes let you set up highly diverse and interactive sites with such features.
Keep Your Site Clean and Uncluttered
Clutter can be a problem on any type of website, but on a portfolio site it's especially deadly. If visitors are overwhelmed with images, they will have a hard time concentrating and may find the overall effect displeasing. Thus, even if you are displaying items of incredible beauty, they may not be getting the attention they deserve if your site has too much clutter. This is something you can see for yourself if you look at your site honestly and objectively. You can also ask the opinions of people you trust.
If you are constantly adding new items to your portfolio, you should also be looking for items to remove. If you've had your site for a while, you can go through it and see if some of your older work no longer reflects your current style. Also keep in mind that just because something isn't displayed on your site doesn't mean that it can't be useful once you're in contact with a client.
You could keep an offline portfolio to show people who have expressed an interest in a certain type of work. For example, if you have a photography site, you might have 100 photos of beaches. Yet it might be better to only display a dozen or so. Then, if someone requests photographs of this type, you could show them the others.
Naturally, when choosing which items to display on your portfolio site, you want to choose your best work. You may therefore want to remove anything that doesn't show you at your best. You should also remove items that don't really fit into the categories you are highlighting.
Make Sure Visitors Can Easily Contact You
While a portfolio site should be aesthetically pleasing, it also has to be practical. This means that, like any type of marketing website, you need many call to action links. Clearly visible buttons that lead to your product page or contact form should be prominently displayed on every page of your portfolio site.
You never want to make visitors work hard to find you or to purchase something. If they have to search for your contact page or click on the back button of their browser, you risk losing them. No matter where they are on your site, they should be able to click on a link leading to your "action" page, whether this be a shopping cart or contact form.
With WordPress, if you are using a good theme, then you can easily add call to action buttons effectively. For example, using themes from Elegant Themes, you can easily add call to action buttons anywhere on your site with their shortcodes. On top of that, using the shortcodes, you can also add elegant boxes, toggled content, tabbed content, slideshow, image slider, DropCaps, Testimonials and many other interesting widgets!
Conclusion
Creating a successful portfolio site is not easy in today's competitive environment. But if you have confidence in your work, there's no reason why you can't build a site that displays your creativity and connects effectively with your audience.
To summarize, there are a few basic points to keep in mind with a portfolio site running on WordPress.
Start off with some clearly defined goals for your site.
Choose an appropriate WordPress theme. For a portfolio site you should have a premium theme rather than a more generic looking free theme.
Showcase your best work; remove anything that doesn't measure up.
Make all of your content relevant to your target audience.
Keep your site clean and uncluttered to make each item stand out.
Have multiple call to action buttons or links.
Of course, each site is unique and you have to keep your own preferences in mind when building your site. You will also have to do some testing and experimenting. Since a portfolio site is one that usually changes over time (as you add and remove items and categories), you have to constantly gauge the response you get. If you find that a certain approach isn't working, you may have to make some changes.
A portfolio site is ultimately for the benefit of your clients and visitors, so whatever you do with your site, always keep them in mind!