How to Publish Blog Posts updates on Facebook automatically

Where do you promote your blog? Where do you get more traffic to your blog? If you scratch your head at this question, you're probably only writing on your blog and leaving it at that.
Maybe you have some "Share" buttons at the bottom of each post for you to hope that your readers would share it with their Facebook friends, tweet it on Twitter and perhaps pin it on Pinterest. You must already know by now the power of social media, especially Facebook. It is through Facebook that long-lost friends were found, startups were noticed and became successful, even missing persons have been located too!
So you'd surely want to publish your blog posts on Facebook now. But won't my job as a blogger never end if I have to write and constantly publish on various other social networking sites? It is time for you to learn how to do things the faster and easier way by automating the process of publishing your posts on Facebook. One such app to help you do so is RSS Graffiti. It can help you to share contents from various other platforms as well, such as Twitter, Flickr and YouTube.
RSS Graffiti Tutorial
Read on and follow these steps on how to publish your blog posts on Facebook using RSS Graffiti.
Go to http://www.facebook.com/RSS.Graffiti, "like" the page and go to the application.
Allow the app to access your Facebook account.

Just like one of those game requests you would have received on Facebook, a page will appear asking for your permission to let it access your account. It's not possible to use this tool to publish blog posts on your page without letting it access your details, right? So, click "Allow" and proceed to the next step.

Add a new blog.

Upon clicking "Allow", a new page opens allowing you to add the blog that you want to publish from. On the page, click on "Add New".

Enter your blog's URL, and click on "Add Source". After a short while, the Facebook app should automatically retrieve your blog's Feed Title and Feed URL. You can edit them if you think they aren't correct, but otherwise just leave them.

Set your posting frequency.

Now, set how often you want RSS Graffiti to retrieve your posts and publish them for you. For instance, you might write one post after another but don't want them all to appear at the same time to your Facebook friends, so this is where you can adjust the settings so that they would see regular updates instead of a flurry of posts!
That's it. A few simple steps to setup RSS Graffiti Facebook app, so that it will automatically publish your blog posts on Facebook for you. Easy and simple!
RSS Graffiti is going to launch version 2 really soon. This new version includes even more cool features, such as:
More Flexible Publishing
Improved Performance
Powerful New User Interface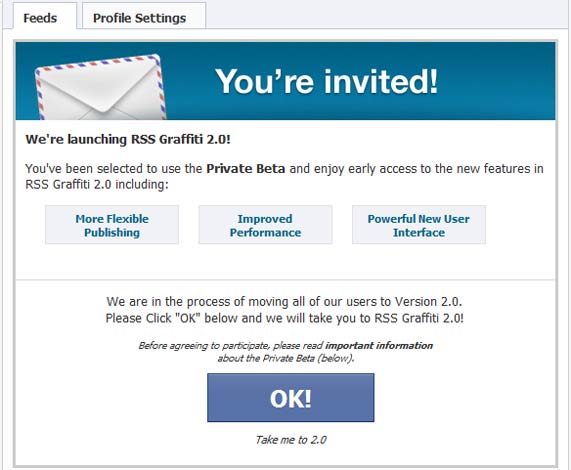 If you are already using RSS Graffiti on Facebook, you should now see the invitation to move to RSS Graffiti 2.0. Just click on the "OK" button to enjoy all the new features!