Best Premium E-Commerce WordPress Themes
It's not easy finding a good WordPress theme for your blog that you really like. Whenever I want to change the theme for my blog, I spend a great deal of time looking for one that really suits what I want the blog to represent yet having the features I want.
Running an e-commerce blog, it isn't always easy to find a theme that supports the tools and plugins that I want to use. As a result of the hours of searching, researching and selecting, I found that Elegant Themes has a collection of some of my favorite themes, as well as sites such as Themeforest and WooThemes.
To save you time and effort, I am sharing with you the best premium e-commerce WordPress themes that I have found and am either currently using or have used for my blog.
10 Best Premium E-Commerce WordPress Themes
---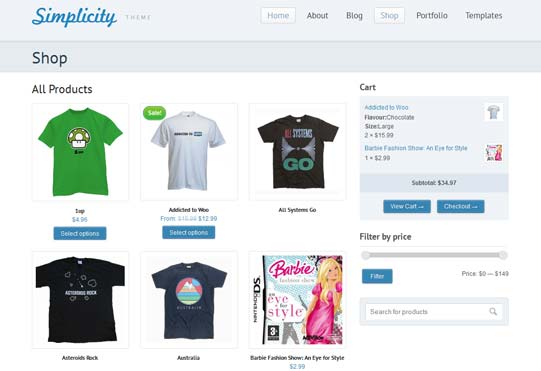 I stumbled upon this theme at the very last minute and thought that it is worth a mention too. Simplicity was already popular with business owners before it became enriched with e-commerce features and became even more popular with online store owners. It isn't hard to see why. Images are arranged neatly allowing visitors to view them easily and on the right hand side are categories and shopping cart to simplify the browsing and purchasing process.
---
Of all the above, eStore and Mazine are my favorites. I always believe that captivating graphics are the key to getting site visitors' attention and making them stay for a while on the site, so that is the reason why I have fallen in love with both eStore and Mazine.
If presentation isn't as important to you as it is for myself, then choose one of the other themes above which strikes your fancy!
If you have an online store or blogshop, choose from one of the themes above that come with e-commerce features. They will certainly be helpful in managing your store. Else opt for one of the eye-catching themes that will showcase your collection at its best. Whichever theme you choose, you can be sure that it would be a good choice because I have tested and tried the above themes, and I only recommend the best themes!