The Must-Have Theme for Every Musician
I am impressed at how thoughtful WooThemes is to come up with a theme created especially for musicians. Artistes are such a niche group that no one ever thought of creating a theme that allows them to feature their music, list their events and concerts, allows fans to play tracks and videos, feature their photo collection and receive orders for their albums? Well, with the Unsigned premium WordPress theme, musicians and bands can just do all that on their website now!
The people at WooThemes have indeed worked hard to put together a theme that is strongly powerful and yet extremely user-friendly. I've never seen a theme that can do so much for a website. Let's take a look at the features to see if you would be impressed with them as much as I am.
Manage album releases with the Discography Module
The Discography Module allows you to manage any upcoming album release as well as all of your previous albums. Sort each album into categories, upload a cover image, issue unique catalog IDs and then announce the release date for your fans to get geared up in anticipation.
That's not all – there is even an audio player facility that plays all the tracks uploaded from your album. Then, link WooCommerce's features to your albums, which your fans can click to buy as soon as they like what they've heard. That's it, this WordPress theme allows you to sell instantly from your blog! Very much a mini shopping cart theme!
Play tracks with Soundcloud Integration
Isn't it wonderful if fans can create playlists of your songs?
Woo-SoundCloud stores the song choices of users and whenever a user logs in, the system will connect to SoundCloud and access the playlists and songs selected by the user. Two types of contents are output through the Woo-SoundCloud Playlist widget – playlists and individual tracks. This is the feature that impresses me the most – embedding a cloud storage feature into a theme!
Showcase photos with the Photos Galleries Module
Connect with your fans by giving them an insight into your life as an artiste. Post photos of your events or concerts, maybe even some of yourself just chilling out (fans will love just any photo of their idols!). The photo management section allows you to upload photos and rearrange their order quickly and easily. The collection of images here can be linked to the gallery detail screen as well as the Woo-Photos widget, so you don't have to do things twice.
Showcase your music videos with Videos Module
Everyone loves videos, else Youtube wouldn't be where they are today. Embed your videos from Youtube, sort them into categories, manage them and allow your fans to post it on their Facebook page or blog by featuring an embed code.
Announce your concerts and events with the Events Module
Get full turnout for your events and concerts by first announcing to your fans about the date, time and location. You can group your events into categories such as concerts, gigs, festivals and such. As this module determines the events' statuses by its start and end date, fans will be able to find out easily which events are taking place right now, have gone by or are upcoming. This is a great feature to stay connected with your fans and readers!
Sell your albums with WooCommerce
By the end of the day, every artiste just wants the fans to buy his/her music. That is also the objective of all the efforts above. So what happens once a fan or site visitor has listened to all the tracks, watched the videos and find that he simply needs to get hold of the album? Just purchase the album through the website with the click of the button!
The Unsigned theme does not forget about the commerce aspects of the music business, so the geniuses at WooThemes have incorporated the functions of an online store, such as shopping carts, checkout, product descriptions, user account sections and product categories, to provide musicians with a powerful website that not only promotes their music but sells them as well.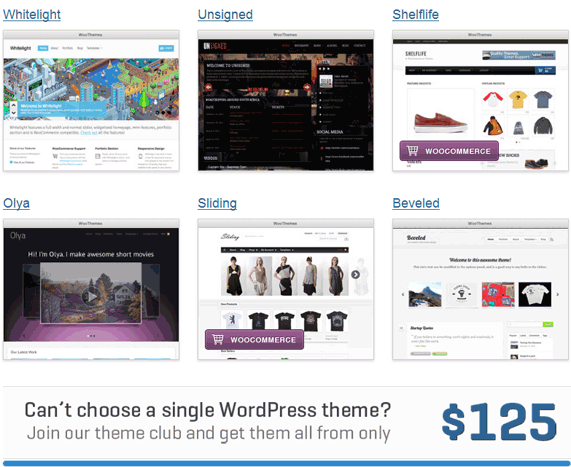 It is unlikely that you'll be able to find such an awesome theme elsewhere that caters to the needs of a music artiste as much as Unsigned does. I never thought that there would be such a theme tailor-made for musicians as well; I had thought that this group of people would have to approach a web designer to get this done for them. Now with the Unsigned theme, they can have all the features above at a minimal cost (and even more of other themes if they become a member of the Woo Club) and get to manage and customize their own website too.
Unsigned is certainly one of the most functional themes I have come across. Preview and test out this theme at WooThemes official website.