Whitelight – Best Portfolio Theme from WooThemes
Whitelight is one of the best themes for those who have an online portfolio to share. Fashion designers, blogshop owners, photographers, interior designers and even bakery shops will love the Whitelight WordPress theme especially for the full-width slider that allows your best images to be featured across the entire length of the home page. There are many other features too that complement the full-width slider, making Whitelight one of the favorite themes among those with a portfolio to boast of.
Full-width sliders
Those who love image sharing will sing praises of this feature. Visitors to your website will be greeted with rotating images as they arrive on your homepage. There are very few themes with full-width slides, so take advantage of this theme to showcase your best work. On top of the full width slider, there is also a normal-sized one which you could link to other pages.
Excellent portfolio management
Another feature great for those who would like to showcase their work is the portfolio summary on the homepage. The summary gives a sneak preview of the portfolio where site visitors can then proceed to view the entire collection in a portfolio page template.
This portfolio management feature is one of the easiest to use, yet functional, in all the portfolio themes I have seen so far.
E-commerce ready
The Whitelight theme is one of the many themes created under the WooCommerce features. If you have an online store or intend to convert your hobby into a source of side income some day, you must consider getting a WooCommerce theme. A WooCommerce theme allows any WordPress website to be converted into an online store easily, powered by a range of features that makes transactions easy. There are various plugins that simplify the ordering process, orders management, inventory management, marketing and promotions, payment gateway integrations and shipping cost integrations.
Fully customizable homepage
All websites with the Whitelight theme will have widgetized homepages, giving you the options to customize your pages by adding and arranging the order of the custom widgets. This way, you'd be able to determine where you'd like to place components such as the blog area, features and portfolio. On top of that, you can also place an intro message on your homepage. You could make an announcement, greet your visitors or promote a service or item.
Fully compatible with Mobile Devices
You don't have to worry about your websites not displaying properly if you're using the Whitelight theme. The design will scale to fit on all browser widths and resolutions, enabling smartphone and tablet users to view your site perfectly! Powered by FlexSlider, the sliders are compatible for use on mobile devices too.
With more and more people browsing the Internet on their smartphones and tablets these days, you don't want your websites and sliders to fail when viewed on these gadgets, do you?
Custom Widgets
Built into the theme are a widgetized sidebar and 4 footer widgetized areas. These come with Woo Widgets that allow you to customize and enrich the functionality of your website with widgets such as Flickr, Twitter, video/embed, blog author, subscribe & connect and a search function. You can do all these widgetized customizations from within the WordPress Dashboard itself!
Create your own look
Make your website look different from the rest by customizing it with colors, images, backgrounds and fonts. If you don't fancy the default Signika font, you can choose from one of the many Google fonts supported by the theme. Design your website to reflect your brand too by selecting the related colors for your background, images, links and button colors.
Editor's Advice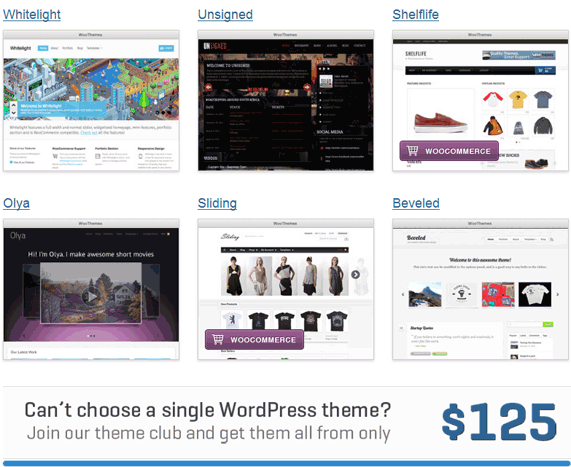 If you've decided to give Whitelight a try after reading about its features above, you can simply do so by purchasing the theme at $70 only (standard pricing). Alternatively, you could join WooThemes' club which gives you access to all WooThemes' WordPress themes. Oh, there are 125 high quality premium themes in their collection now!
I highly recommend the latter because there are so many absolutely awesome themes in their collection and you wouldn't know which one would catch your eye later as your site changes its look and focus in the future. So why not pay just a little bit extra and receive new themes each month, on top of ALL their previous 125 themes? All themes were created by the same team at WooThemes, so you'd know that all of them are as good as Whitelight!