E-commerce Themes: Argentum WordPress Themes
I must admit that when I first heard of the newly launched Argentum premium e-commerce WordPress theme, I was a little skeptical. I mean, there are hundreds of specially designed for e-commerce themes on the Internet these days that online store owners are spoilt for choice. So what makes this theme different from the others? That was before I found out that the Argentum theme is part of WooThemes' WooCommerce. Talk about jumping to conclusion!
What is WooCommerce?
A short explanation about WooCommerce first. It is this absolutely awesome e-commerce toolkit that WooThemes incorporates into their WordPress themes. It has many great features that instantly transform WordPress themes into a e-commerce WordPress themes, and thus e-commerce websites; like incorporating widgets to maintain control over sales, inventory and overall store performance as well as supporting a variety of payment gateways. All of which are included in the Argentum theme.
So far so good but what about the Argentum theme itself? What makes it stands out? Well, here are some of its interesting features.
Responsive Design
This is my favorite feature. Ever since Ethan Marcotte wrote about "Responsive Web Design" in 2010 in which he talks about how web designs should adapt to the ever changing world of web viewing, I had been impatiently waiting for new themes that allows us to do just that. Look at how fast new technology is replacing the old and you can understand my enthusiasm. People constantly change the way they view websites and if we do not respond to this change, we will eventually lose out.
And I am happy to say that Argentum is one theme that incorporates responsive design with e-commerce. It is built on flexible grids that allow this theme to be viewed using different browsers or media, without having some part of your website unceremoniously chopped off or the need to re-size. So regardless of whether your customers are using Internet Explorer or Firefox or surfing using smart phones or tablets, your website will appear as it was originally designed without your customers having to tweak or install anything.
Customizable Homepage
This is another great feature where you are given lots of flexibility in customizing the homepage. First there is a variety of color schemes for you to personalize your site. Then there is an area in the centre of the homepage where you can use to showcase your featured product and your recent products. Besides that, there are also 2 widgetised areas as well as another space for the latest blog post.
Customized Shortcodes
On top of the general shortcodes that you can find in all of WooThemes' products, the Argentum theme has two extra shortcodes that were customized for it. For one, the Argentum allows the use of a virtual sticky note which can be used to highlight messages to your visitors on your website, for example promotion announcements. The other shortcode is for a sale banner that can be used for, well, sales and special offers announcements.
Sales Template
Argentum features this extra template which is designed for online store owners to display their current discounted or promotional items. Bargain hunters would love this template for they no longer need to click and scroll all over your site to look for discounted items. Easy navigation will lead to customers having a pleasant web viewing experience and this usually encourage more purchases too!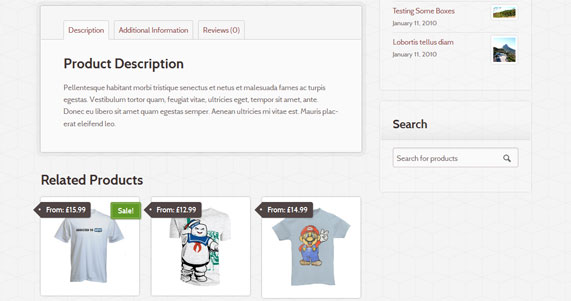 In short, the Argentum theme while still maintains certain boundaries, is far from being rigid. Its "responsive design" flexibility in allowing you to develop their e-commerce sites base on their taste and preferences as well as being able to optimize viewing regardless of the different browsers and media, is what I believe to be their best selling point. Not convinced? Do hop over to WooThemes' Playground today for a test drive.
As for pricing, you can opt for WooThemes' Standard or Developer Packages, where you have access to the chosen theme with a one-off payment of only $70 and $150 respectively. It also comes with bonus themes, support and the themes' future updates. Alternatively, the Club Subscription package costs only $125 to start-up and charges a monthly $15 for free access to all of WooThemes' themes. You can check out the different packages here.