Kreative Themes Typozine
If you are an up-and-coming online publisher who has a lot to offer to the world and looking for a great and reliable platform to jumpstart your journey of online publishing, the Typozine theme by the Kreative Themes might very well do the trick for you and make your work a lot easier. The online publishing industry is one of the toughest and most competitive industries to break in. If you're not well-equipped with enough know-how's, things might not turn out the way you'd want it to be. Although it is quite challenging for anybody to enter the business, you still stand the chance of succeeding as an online publisher, provided that you have got what it takes to do online publishing.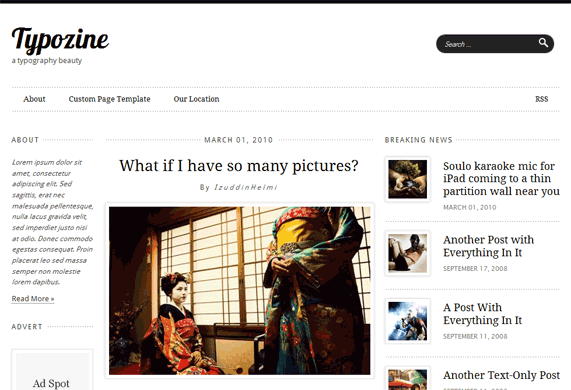 To create a blog, one of the most important things for you to have is a great theme. The Typozine theme by Kreative Themes has almost everything you could ever need to get a head start in online publishing. Typozine is a Premium WordPress Theme that many online publisher would fancy and find useful. The theme is best suited for any magazine sites that focus heavily on contents and advertisements, above anything else. Color styles available for this theme include white and black, typically the most conventional combo you'll ever need when it comes to online publishing.
Preview this beautiful theme at the developer's official website.
Typozine theme features
This relatively new WordPress theme was released on the 15th of February 2011. With compatibility of the latest WordPress versions, the theme also has amazing support system and flexible theme option panel (known as KreativeAdmin). Among the other notable and common features of the Typozine theme are as follow:
Lifetime Support

Once you've purchased the theme by Kreative Themes, you're automatically entitled to their lifetime support.

Custom Admin Framework

You'll be provided with thorough assistance on customizing the theme by using the features-rich admin framework.

Special Freebies

As one of the theme subscribers, you're entitled to any freebies from the developers which would come your way.

Very Detailed Tutorial

The Kreative Themes will provide its subscribers with a step-by-step guide on customizing their themes.

Fast Response Support

Rest assured that you'll be well and speedily assisted if and when you face any problems with your theme. The fast response and support that you'd get from the customer support team is simple impressive!

Time-Saving

If you're extremely busy and on-the-go, you may be able to save your precious time by using the theme's pre-made design. This way, you don't have to spend hours trying to design something; simply pick one of the designs that you feel suits you and your website most.

Kreative Themes Option Panel

With the theme options panel, you'll be able to control everything from the Google Analytics embedded code to changing the theme' styles, colors, fonts and many other options. This is really a hassle-free way to customize the theme!

Theme Documentations

If you purchase this premium theme, you'll automatically get documentation in a PDF format. Even if yo''re a novice when it comes to WordPress, the documentation is fairly simple and easy to understand.

Compatible with the Latest Version of WordPress

Kreative Themes developers always make sure that they constantly update all of the themes as well as the compatibility with every release of the latest version of WordPress. If somehow your WordPress version is one of the earlier ones, fret not as Kreative Themes can also be used with these earlier versions. Backward compatible!
Cheapest Premium WordPress Theme
What I like most about the Typozine theme is the fact that this amazing WordPress premium theme comes at an unbelievably affordable price, starting at $29.90 only.
It's truly a possibility that anyone can get their theme from as low as $29.90. With about four different types of packages available to choose from, you'll definitely have the freedom to pick any package that suits your needs the best.
The four different packages include Standard Lite ($29.90), Standard ($49.90), Webmaster Lite ($69.90) and Webmaster ($99.90). With Standard Lite being the cheapest package and Webmaster being the most expensive and the most popular package, each package is designed to serve the different needs and purposes.
Which package is right for you?
It's highly recommendable that you pick the Standard Lite for starters if you're still quite new to WordPress and that you'd like to manage your online magazine in a lot less complicated manner. The Standard Lite features one theme, documentations, free lifetime theme updates as well as unlimited domain, all for the price of only $29.90 only. However, if you're quite a WordPress pro who prefers to follow the crowd, you may choose the Webmaster package which includes everything the Standard Lite has to offer, with an additional access to the support forum and PSD source files. The PSD source files include the design of the theme in Adobe PSD format. This will make it very easy for you to fully customize the look and feel of the theme.
All in all, make your online magazine more interesting and readable with Typozine. As a person who's interested to venture in the online publishing industry myself, I'd definitely give Typozine theme a go. With properly categorized content, good positioning of photos and an easy-to-read layout, you shouldn't miss out on this awesome theme.