Elegant Themes Photoblog WordPress Theme
I have always been a huge supporter of Elegant Themes' designs. They are, for a lack of a better word, elegant! But seriously, all their themes are uniquely innovative and have what it takes to grab attention. Like a child waiting for Christmas to come, I find myself eagerly looking forward to their next new theme. And I was not disappointed with their new addition earlier this year, the InStyle WordPress Theme.
One thing Elegant Themes InStyle is not, is that it's not subtle. To quote them:
InStyle is bold and beautiful, turning your screen into a large, colorful, photo-filled canvas.
Though this premium theme is suitable for all types of websites, I personally feel that it suits a photoblog best. How else would you be able to justify the great background image feature that InStyle has? In fact, as far I have seen, InStyle one of the very few theme that offers such feature!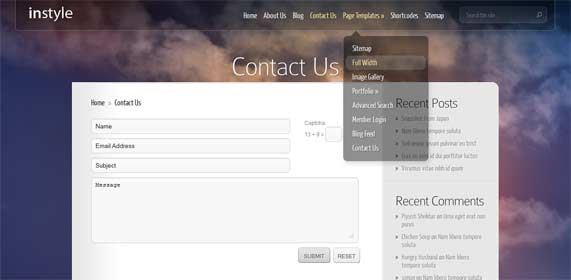 Photo-based Background Image / Image Rotator
This theme's uniqueness lies in its customizable full page background image feature. It allows you to upload your high resolution photos and customize it to each post or page, resulting in different background for the different post or page. If you assign multiple photos to a particular section, then the photos would be displayed in rotation like a slideshow! The final result is really STUNNING!
Integrated Theme Options
On top of all the page settings that are similar to the other Elegant Themes, InStyle has a new option in its post editor setting. Because of the aforementioned background image feature, there is a new "Background Image URLs" option in the post editor setting which allows the user to define the background image while writing his posts. Thus, image customization is a breeze.
Page Templates
One thing about Elegant Themes is that it is very user-friendly. Its' Page Templates has so many ready-to-use styles and functions for you to choose from. From various Portfolio templates to awesome animations and lightbox effects in the Image Gallery template, there is bound to be one that suits your requirements or catches your fancy. You have the flexibility to customize each page with different templates, thus creating a more personalized content. This is one of the feature why I like Elegant Themes' WordPress themes to much!
Shortcodes
Shortcodes are getting popular in premium WordPress themes these days. The reason is simple. It makes designing and managing web contents so much easier. As with other Elegant Themes' themes, InStyle too comes with a great list of shortcodes, for example for designing button varieties, managing content boxes, creating slideshows, password protecting your content, adding social media as well as many more. Therefore, regardless of whether you are a beginner or an advanced webmaster, you can now create professional looking layouts easily – use WordPress themes from Elegant Themes.
---
Sounds great but how much does it cost?
Well, in order to download the theme, you have to first sign up for Elegant Themes' membership. The membership costs $69 per year, making that $3.25 only per month!
Still think that is a little too much to pay for a theme? Well, check this out. Once you have signed up as a member, you have unlimited access to ALL their themes. No additional costs and no small prints. As of Nov 2011, it currently has 87 WordPress themes (that's as little as $0.55 for a theme!) and every month, another 2 – 3 new themes get added in. Now that's really worth it!
But wait, there are more. You will receive frequent theme updates as an Elegant Theme member, thus ensuring that your themes are always compatible with the latest WordPress version. You will also have access to their support services. There's the FAQ and Contact page for those wishing to find more about Elegant Themes and their designs; while the Troubleshooting Guide helps with any challenges you may have while installing the themes.
Anyway, what I like best about the support is the support forum. Unlike many other support forums out there, the Elegant Themes' support forum is one of the most useful and engaging forums I have ever come across. It is very active and helpful. In fact, this might be the best WordPress support forum on the Internet!
So now you see why I love Elegant Themes so much? I am sure you would too so go over for a live preview of the InStyle WordPress theme today and be amazed with this bold and yet elegant WordPress theme.